MONTSERRAT New York, the lifestyle brand worn by New York's up and coming «it» crowd is set to unveil their first collection of eyewear on June 3, 2022. Alongside King Children, a sustainable eyewear platform using zero waste 3D printing technology, the two teams worked together to create two debut sunglass designs, each available in three colorways.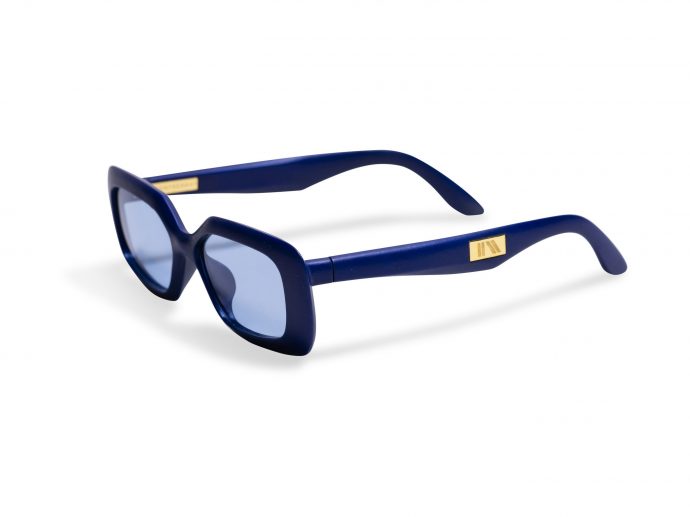 MONTSERRAT New York's efforts in sustainable luxury began with the use of lab grown diamonds, a process that uses technology to produce diamonds, all without disrupting earth's ecosystems. Upon meeting with King Children and understanding their sustainability efforts to reduce the use of plastic, specifically acetate, within the eyewear space, the team was inspired to partner and build a collection. The partnership stems from both parties' efforts to better the planet.
King Children's design process eliminates waste throughout the entire manufacturing process. The brand's eyewear is made from fine polyamide powder fused together using a 3D printing technology: Selective Laser Sintering. The high-tech material allows for ultimate freedom in design with an incredible and highly desired matte finish.
MONTSERRAT New York's first eyewear collection will launch with two key styles, each available in three colorways: A classic cat eye style – The Capri, and a rounded square style, a nod to the 90's – The Paros. The gold metal accents seen on both styles mimic that of MONTSERRAT's best-selling jewelry. The case includes a cleaning cloth printed with the brand's eye-catching logo; no pun intended. Each detail of the collection was thoughtfully crafted through the MONTSERRAT New York lens.
«This collaboration brings together two brands who turn to technology to reimagine the ways we create product to better our planet. Both of our teams worked together to fuse the architectural notes often seen in our jewelry and the effortlessness felt wearing our clothing into sunglass styles that fit perfectly into the brand and were developed without creating material waste.» Gayle Yelon, Co-Founder at MONTSERRAT New York
«We love working with MONTSERRAT New York. For this collection we wanted to create sunglasses that capture their DNA of effortless luxury while taking advantage of King Children's technology in new ways. Through partnering with forward looking brands like MONTSERRAT New York and powering their eyewear offerings we are able to meaningfully move the eyewear industry towards a zero-waste future.» – Leslie Muller, Head of Design at King Children
Whether you're wearing sunnies to cover up a Limoncello hangover, or yachting towards the Blue Grotto in the bright Italian sun, this collection of sustainable eyewear is a must for any summer adventure.
MONTSERRAT New York Eyewear Powered by King Children will be available online beginning Friday, June 3 for $195 at montserrat-nyc.com