Dubai, a city of opulence and innovation set against the backdrop of the Arabian desert, is renowned for its extravagant hotels that redefine luxury. Explore the iconic and lavish hotels that offer an unforgettable taste of Dubai's grandeur and hospitality.
1. Burj Al Arab Jumeirah
As an architectural wonder and a symbol of Dubai, the Burj Al Arab Jumeirah reigns supreme. The sail-shaped structure stands on its private island, offering unparalleled views of the Arabian Gulf. With chauffeur-driven Rolls-Royces, private butlers, and opulent suites, it's no wonder this hotel is known as the «7-star» gem of Dubai.
2. Atlantis, The Palm 
Situated at the apex of the Palm Jumeirah, Atlantis, The Palm is a captivating resort that combines luxury with adventure. Guests can explore an underwater world at the Lost Chambers Aquarium, unwind on pristine beaches, and enjoy thrilling waterpark rides. Dining options are equally extravagant, with celebrity chef Gordon Ramsay's Bread Street Kitchen among the highlights.
3. The Ritz-Carlton, Dubai
Located in the heart of Dubai Marina, The Ritz-Carlton, Dubai exudes sophistication. This beachfront oasis offers elegantly appointed rooms, a world-class spa, and exceptional dining experiences. The hotel's lush gardens and private beach provide a serene escape from the city's bustling energy.
4. Jumeirah Al Qasr
Part of the expansive Madinat Jumeirah resort, Jumeirah Al Qasr is a masterpiece of Arabian architecture. Guests are transported to a realm of traditional opulence, with rooms adorned in regal decor and butler service. The property boasts a private beach, a serene spa, and access to the vibrant Souk Madinat Jumeirah.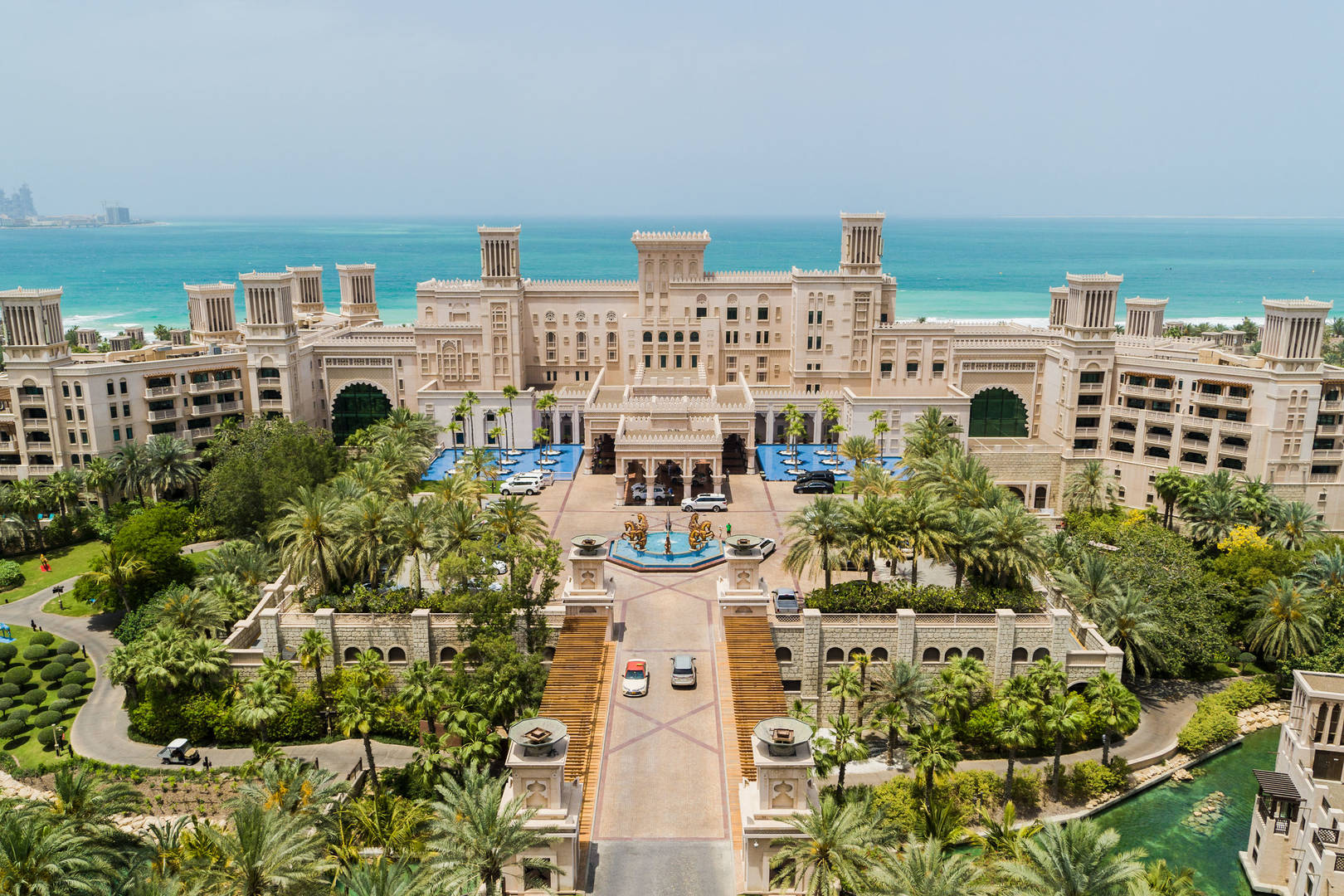 5. One&Only The Palm
Set on the exclusive Palm Jumeirah peninsula, One&Only The Palm offers an intimate and secluded retreat. Luxurious beachfront villas with private pools, a tranquil spa, and exceptional dining at Zest restaurant make this a haven of indulgence. Enjoy views of the Dubai skyline across the water.
6. Armani Hotel Dubai
Located within the Burj Khalifa, the world's tallest building, the Armani Hotel Dubai offers a blend of elegance and modernity. Designed by Giorgio Armani himself, the hotel's rooms and suites exude sophistication. Guests have direct access to The Dubai Mall, making it perfect for shoppers.
7. Bvlgari Resort Dubai
Nestled on the man-made Jumeirah Bay Island, the Bvlgari Resort Dubai is a haven of luxury. Its Mediterranean-inspired design, private beach, and gourmet dining create a serene atmosphere. The resort also features the world's first Bulgari Yacht Club.
Dubai's luxurious hotels are a testament to the city's commitment to excellence. Each of these iconic establishments provides a unique blend of extravagance, impeccable service, and Arabian hospitality. When planning your visit to Dubai, consider these extraordinary hotels that promise to make your stay a memorable one.
Remember to book your stay well in advance, as Dubai's luxury hotels are in high demand among travelers seeking the pinnacle of hospitality. Your experience at any of these remarkable hotels will undoubtedly be the highlight of your Dubai adventure.
Written by Founder & Head Editor: Anton Fernandez